2 DAY CONFERENCE
Scala eXchange 2015
Topics covered at

#scalax
Overview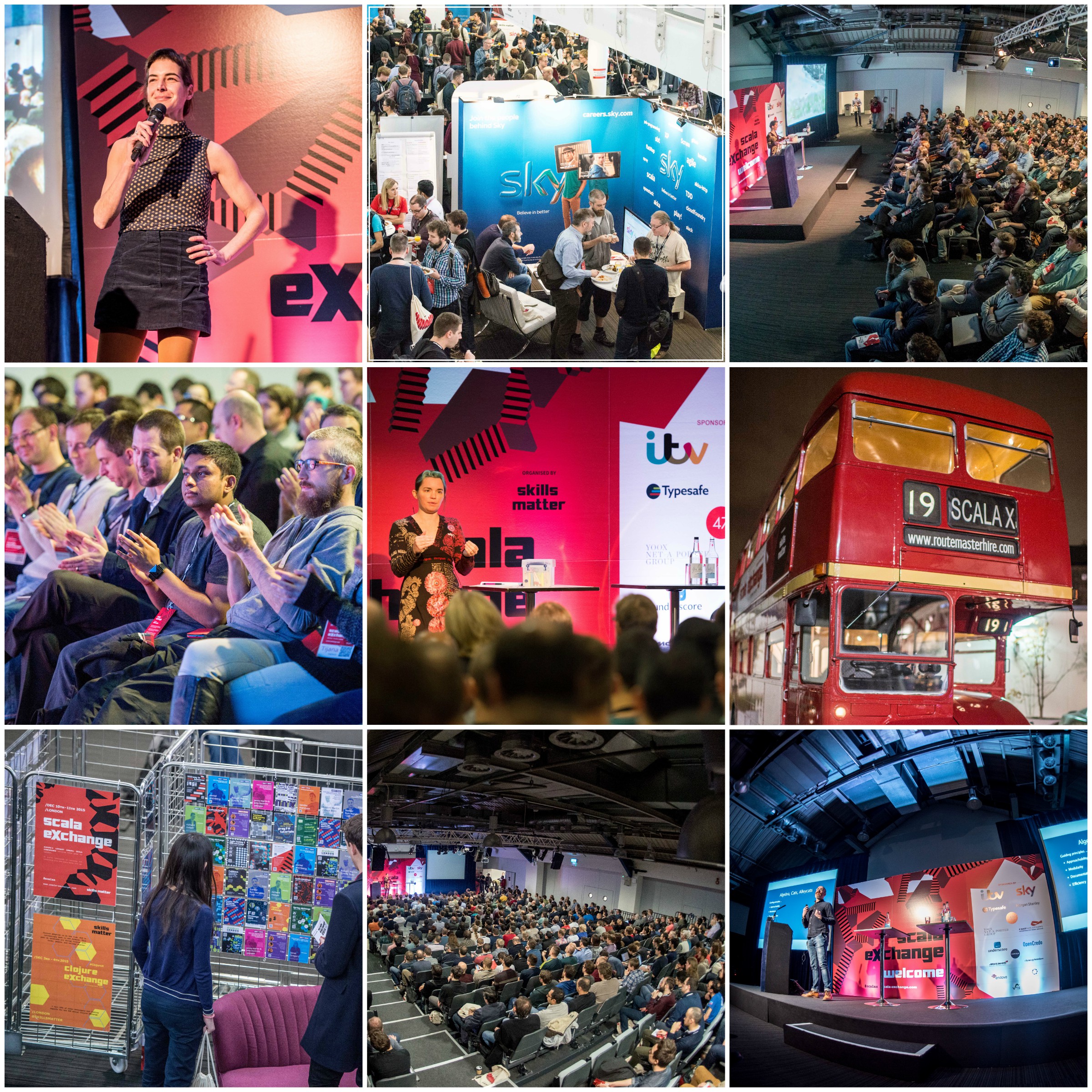 Thank you!!!
Thank you for joining us at Scala eXchange 2015! We had a terrific time, we hope you did too! A massive thanks to our great programme committee, all speakers, sponsors and to everyone who joined us this year!
Thanks also to all those who joined us at the ScalaXHack at CodeNode, helping to make the language and documentation better!
Registration for 2016 is open!
Scala eXchange 2016 will be held on Dec 8th and 9th at the Business Design Centre. Registration is already open - don't miss the early bird offers!!
Help us create another great conference next year!
All Skills Matter conferences are created for and by the community. We would love to have your input and ideas on how next year should look like. If you like to help us this way, please contribute to our Call For Thoughts!
Follow us at #ScalaX to hear all the latest news.
What happened at ScalaX London 2015?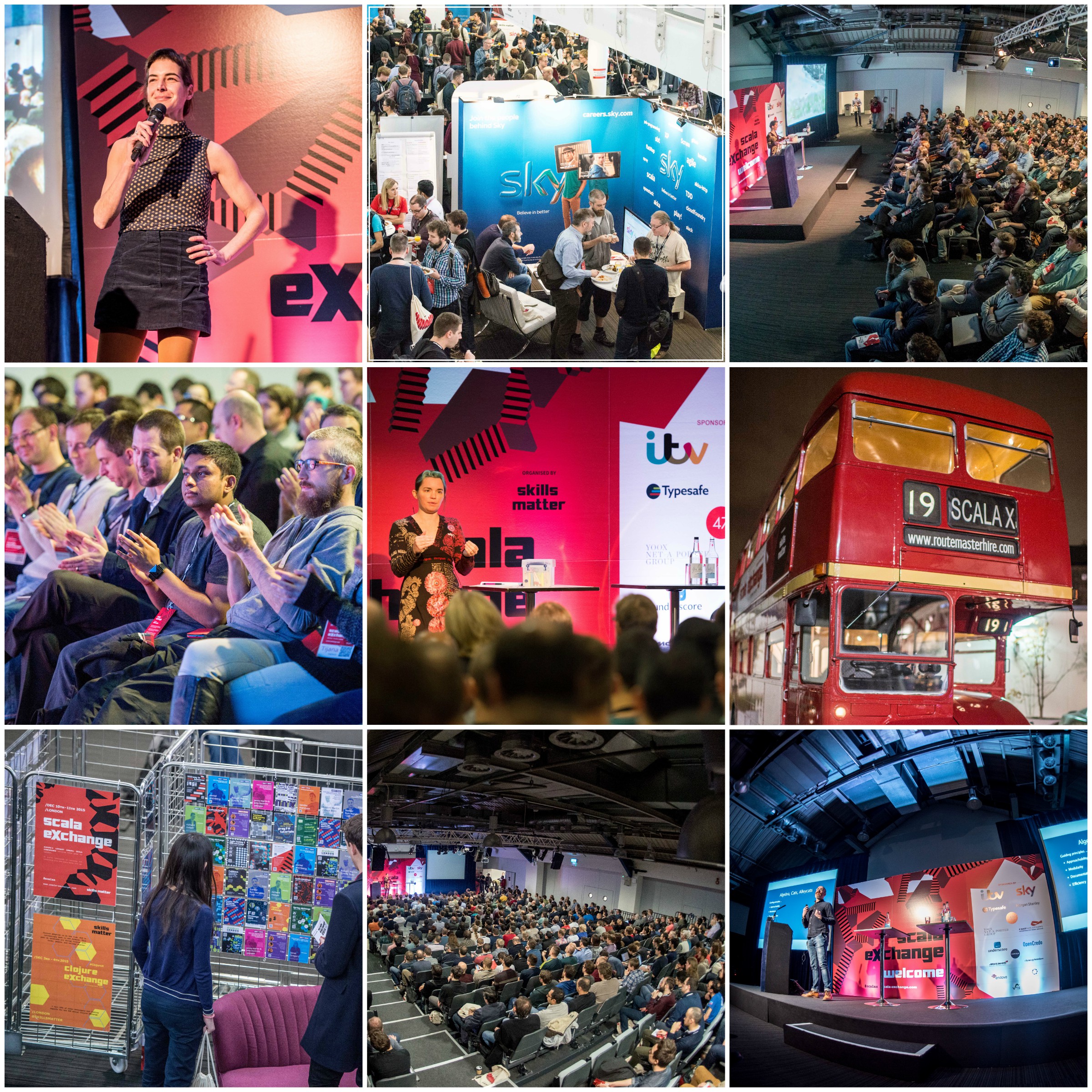 Speakers & Program
ScalaX 2015 was crafted for and by the community and this year is no exception! We received lots of ideas, talks and feedback from our community this year, resulting in a program packed with talks and workshops on Scala, functional and reactive programming, data science and the Typesafe stack.
Find the full line-up here
.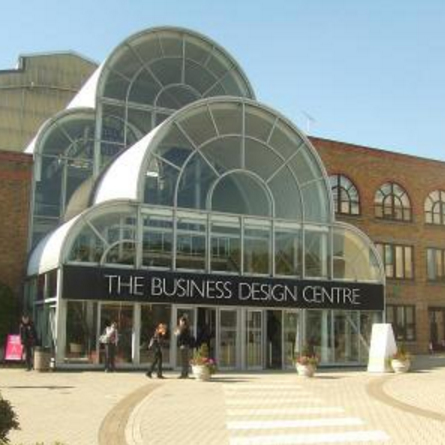 The Venue
The BDC has been home to the Scala eXchange for several years now, offering a fantastic sizeable space to learn, share and collaborate. Find more details about the venue
here
.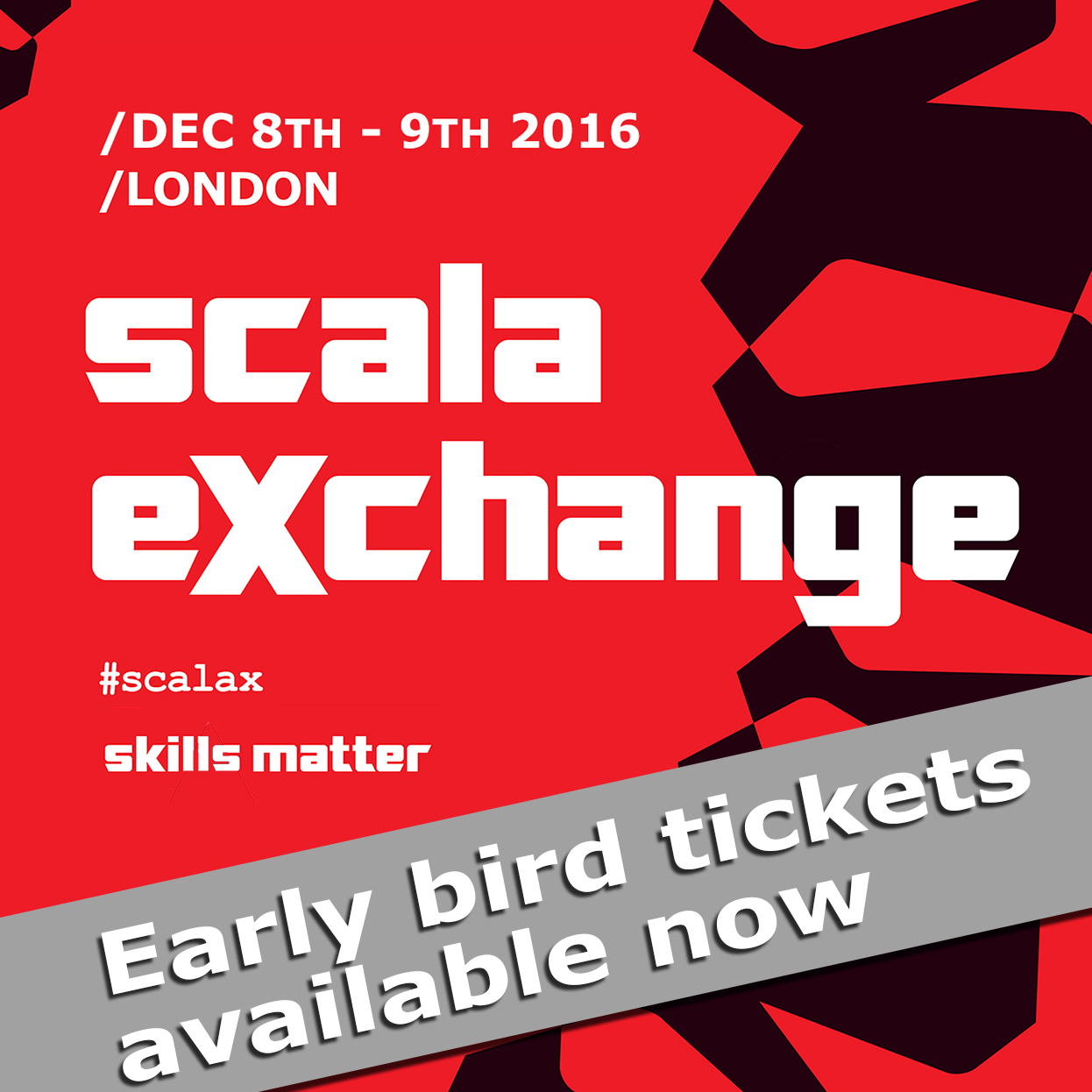 Registration for ScalaX 2016 now open!
Fancy joining 1,000 fellow Scala developers, architects and data scientists for 3 days of learning and sharing skills? We expect to sell out this year, so if you fancy coming along, best to get your skates on and book your 2016 early bird ticket today!
Register here
.
Follow us at #scalax for the latest news!
Programme
Day 1: Day 1
Thursday 10th December
Track
Room 1
Room 2
Room 3
Room 4

08:30

Invalid Time

Invalid Time

Breakfast and Registration

09:20

Invalid Time

Invalid Time

Opening and Welcome to Scala eXchange 2015

09:30

Invalid Time

Invalid Time

KEYNOTE




Keynote: Scaling Intelligence: moving ideas forward

Jessica Kerr

---

scalax

scala

scalability

10:30

Invalid Time

Invalid Time

Coffee & Tea

10:45

Invalid Time

Invalid Time

Functional Patterns for FP beginners

Clément Delafargue

---

scala

functional

You will cover:

Algebraic Data Types for data modelling

Typeclasses for extensible abstractions

Error handling in a composable fashion with Either and Validation

Segregation between logic and effects for easier testing

Property based testing

scala functional

---

About the speaker...

×

Akka Cluster on CoreOS

Heiko Seeberger

---

akka

akka-cluster

coreos

A deep dive into scalac

Chris Birchall

---

scalac

scala

cake-pattern

Chris will first walk through what the compiler actually does to turn your Scala source files into Java bytecode, looking at some of those infamous phases along the way. Then he'll look at how the codebase is structured, and how you can extend its functionality using plugins. Finally there will be a live-coding demo showing how easy it is to start hacking on the compiler.

This talk is aimed at you if you are an intermediate Scala developer who understands concepts such as typeclasses and the cake pattern, but no prior knowledge of the internals of scalac is required.

scalac scala cake-pattern

---

About the speaker...

×

Count-Min Sketch in Real Data Applications

Laura Bledaite

---

bloom-filter

hyperloglog

count-min-sketch

twitter

algebird

scala

mapreduce

Queries such as whether a user has seen a tweet, the number of unique users who have favourited a tweet, or the number of times a tweet was seen over a period of time, are all hard to answer exactly due to having huge datasets and tight time constraints. However, the exact number is often not necessary as long as the errors are bounded. Certain algebraic data structures enable approximate answers to the queries mentioned, owing to distributed computations performed over them that are guaranteed to be correct because of their algebraic properties.

Take a look at Algebird and Summingbird.

bloom-filter hyperloglog count-min-sketch twitter algebird scala mapreduce

---

About the speaker...

Laura achieved her MSc in Computer Science at the Free University of Bozen – Bolzano, where she wrote a thesis about Pairwise Preferences in Collaborative Filtering. Laura spent three incredible months at Hacker School in New York and totally enjoyed it.

Currently, Laura is working as a data scientist at Twitter, mostly building domain specific user behaviour models, and is enjoying writing Scala, using Scalding, Algebird, and Summingbird.

You can check out Laura's blog here.

×

11:30

Invalid Time

Invalid Time

Coffee & Tea

11:45

Invalid Time

Invalid Time

Building a CQRS application using the Scala Type System and Akka

Renato Cavalcanti

---

ddd

cqrs

akka

event-sourcing

akka-persistence

streaming

First we'll show you how we can use the Scala Type System to build a domain model based on case classes and functional paradigms. Contrary to what common sense dictates, we'll demonstrate that functional programming is a very good fit for domain modeling.

Secondly we'll explore the available options when integrating it with Akka and Akka Persistence.

We'll cover the following points:

The advantages and pitfalls of using Akka as a messaging subsystem

How to reliably propagate events from the command side to the query side of your CQRS application

How to recover from failure

How to fit it in an asynchronous programming model

During this hands-on session we'll build a simple CQRS application based on Play and Akka.

ddd cqrs akka event-sourcing akka-persistence streaming

---

About the speaker...

×

What are typeclasses and why you should care

Philip Wills

---

scala

scala

---

About the speaker...

He has helped build and scale theguardian.com, the tools used to produce it and Ophan, the analytics tool used to ensure our journalism reaches the widest possible audience. Within the team he's driven the adoption of Scala and Continuous Delivery, which he's written about as part of Build Quality In.

Phil tweets at @philwills.

×

Introduction to Apache Spark

Deenar Toraskar

---

scala

spark

hadoop

This talk Deenar will provide an introduction to Spark to Scala developers, by covering its programming model, language and deployment options.

scala spark hadoop

---

About the speaker...

Previously Deenar worked at a Tier 1 Investment Bank. He led a team, developing risk analytics applications (with numerous passionate and satisfied users) on a Spark/Hadoop platform. Deenar is also an Apache Spark committer.

×

Towards Finagle at ING Bank

Alessandro Vermeulen

---

scala

finagle

api

jms

ribbon

If you are interested in how to get Scala going in a large organisation and for those who are interested in the basics of Finagle, this talk is for you!

In the above, 'team' refers to the API Platform team at the ​​​Dutch Retail Bank of ING Bank. ING Bank as a whole is moving to APIs, and micro-services in particular, in order to a) provide a resilient service and b) to keep the deployable units and functionality governable. The team has chosen to investigate open source products, as ING Bank is aiming to use more and contribute to more open source software projects.

×

12:30

Invalid Time

Invalid Time

Lunch

14:00

Invalid Time

Invalid Time

KEYNOTE




Keynote: Without Resilience, Nothing Else Matters

Jonas Bonér

---

scalax

scala

Most of you understand what the word resilience means, at least superficially, but way too many lack a deeper understanding of what it really means in the context of the system that you are working on now. Jonas finds it really sad to see, since understanding and managing failure is more important today than ever. Outages are incredibly costly—for many definitions of cost—and can sometimes take down whole businesses.

In this talk you will explore the essence of resilience. What does it really mean? What is its mechanics and characterizing traits? How do other sciences and industries manage it, and what can we learn from that? You will learn that everything hints at the same conclusion; that failure is inevitable and needs to be embraced, and that resilience is by design.

scalax scala

---

About the speaker...

×

15:00

Invalid Time

Invalid Time

Coffee & Tea

15:15

Invalid Time

Invalid Time

A purely functional approach to building large applications

Noel Markham

---

functional

imperative

scala

scalaz

reader

monads

scalacheck

You will be covering:

· Scalaz's Reader and ReaderT monads

· Abstraction over monads and why this is useful

· Using the ScalaCheck library with non-trivial code

· An alternative, fully type-safe approach to creating application configuration

functional imperative scala scalaz reader monads scalacheck

---

About the speaker...

×

Go distributed (and scale out) with Actors and Akka Clustering

Patrick Di Loreto

---

akka-cluster

actors

scala

Akka Cluster is a framework for coordination in a distributed system. It uses a peer-to-peer approach, where there are no master nodes and machines can join and leave the cluster at any time. This is a very flexible system but does require careful thought about how work is distributed around the cluster---the clustering strategy---to meet the availability and consistency goals of the system.

On a busy Saturday at William Hill they have to cope with a peak of 5 million price updates per minute and track 300,000 active user sessions. The team needed to modernise their data pipeline. Akka Cluster provided an ideal platform to build on, due to its decentralised peer-to-peer design which avoids single point of failure, allowing easy scale-out in response to load.

However, you have to think carefully about how you use Akka Cluster, and primarily the clustering strategy to adopt. The strategy determines how data and load is distributed around the system, and hence determines its ability to function given node failures and under stress conditions. Akka Clustering provides an extendible model, which allowed us to define our own strategy to fulfil our requirements. Patrick will describe the use of Akka Cluster in Omnia, and dive deep into the cluster strategy and other issues the William Hill team encountered in use.

akka-cluster actors scala

---

About the speaker...

×

Combining batch and stream analytics with Apache Spark and Apache Cassandra

Christopher Batey

---

scala

apache-spark

apache-cassandra

stream-analytics

This talk will explore: an overview of Cassandra and how to model time series data, hooking up Spark stream processing to do on-the-fly aggregates, and running Spark batch jobs.

Oh and did Christopher mention? It's all in Scala.

scala apache-spark apache-cassandra stream-analytics

---

About the speaker...

×

Ammonite: rock-solid shell scripting in Scala

Li Haoyi

---

ammonite

scala

java

bash

Ammonite is a project that aims to scale down Scala: targeted at code that runs on one machine, written by a single person, with a lifetime of less than 10 seconds. Li will show how Scala is an excellent language for programming in-the-small: want to rename some files? Count the lines of Java code in a source tree? Traditionally you would reach for Bash. What if you could reach for Scala instead?

×

16:00

Invalid Time

Invalid Time

Coffee & Tea

16:15

Invalid Time

Invalid Time

Distributed Real-Time Stream Processing: Why and How

Petr Zapletal

---

The demand for stream processing is increasing. Immense amounts of data has to be processed fast from a rapidly growing set of disparate data sources. This pushes the limits of traditional data processing infrastructures. These stream-based applications, include trading, social networks, the Internet of Things, and system monitoring, are becoming more and more important. A number of powerful, easy-to-use open source platforms have emerged to address this.

Petr's goal is to provide a comprehensive overview of modern streaming solutions and to help fellow developers with picking the best possible solution for their particular use-case. Join this talk if you are thinking about, implementing, or have already deployed a streaming solution.

Have a look at Spark Streaming, Storm, Samza, and Flink.

---

About the speaker...

Petr participates in the whole software delivery life-cycle: from requirement analysis & design through to maintaining systems in production. During his career, Petr has worked for various companies, from start-ups to large international corporations.

Technically, Petr is SMACK (Spark, Mesos, Akka, Cassandra, Kafka) evangelist. Petr enjoys working with Akka and has deep knowledge of toolkit's features like Akka Clustering, Distributed Data or Akka Persistence. Petr is also certified Spark Developer.

Follow Petr on @petr_zapletal.

×

Exploiting Dependent Types for Safer, Faster Code

Jon Pretty

---

typesafe

dependent-types

scala

typesafe dependent-types scala

---

About the speaker...

×

Time travelling in distributed software systems

Bogdan Roman

---

event-sourcing

cors

scala

akka

akka-persistence

You should be familiar with basic Scala syntax and have a basic understanding of the actor model with Akka. Event Sourcing (ES) is a way of persisting a system state by retaining all the events that led up to form the current state of the system.

Command Query Responsibility Segregation (CQRS) is a principle that separates the handling of command input within a system from queries (that don't alter the system state – side effect free).

Check out Typesafe here.

event-sourcing cors scala akka akka-persistence

---

About the speaker...

×

Optimising Scala for fun and profit

Rory Graves

---

scala

functional-programming

Using profiling, decompilation and algorithmic analysis you will go through a number of examples of performance issues and solutions, from collection tricks such as 'breakout' through to using mutability within methods to provide performance gains.

This talk is a 'from the trenches' type talk, showing issues Rory has seen repeatedly as well as the performance gains that can be achieved. The goal is to provide you with practical advice on discovering and addressing performance problems.

scala functional-programming

---

About the speaker...

×

17:00

Invalid Time

Invalid Time

Coffee & Tea

17:15

Invalid Time

Invalid Time

4

Lightning Talks 4

Marconi Lanna, Nicolas Long, Sofia Vaughan-Jones, and Rafal Gancarz

---

scala

functional-programming

4

Lightning Talks 2

Karl Brodowsky, Aurelien Waite, Jeff Smith, and Bas Geerdink

---

scala

scalax

4

Lightning Talks 1

Mikael Valot, Nick Pollard, Jamie Pullar, and Andrew Gustafson

---

scala

shapeless

types

typeclass

protobuf

fix-protocol

json

4

Lightning Talks 3

Krzysztof Otrebski, Rory Graves, Willem Meints, and Sue Carter

---

scalax

18:15

Invalid Time

Invalid Time

Scala eXchange Party @ CodeNode until late - Routemasters Buses will take you to CodeNode!
Day 2: Day 2
Friday 11th December
Track
Room 1
Room 2
Room 3
Room 4
Room 5
Room 6

08:30

Invalid Time

Invalid Time

Breakfast and Registration

09:30

Invalid Time

Invalid Time

KEYNOTE




Keynote: Spark+Hadoop and how it relates to Scala

Sean Owen

---

spark

hadoop

scala

10:30

Invalid Time

Invalid Time

Coffee & Tea

10:45

Invalid Time

Invalid Time

Reactive in practice: web services with Scala and AWS

Matt Roberts

---

reactive

scala

aws

akka-http

slick

restful

Matt wants to show you that qualities such as responsiveness, resilience and elasticity can be defined and, perhaps more importantly, quantified. Furthermore, he hopes to convince you that the design constraints imposed by REST enable you to achieve them.

Matt will explore the following topics:

Design: resources, methods, identifiers, headers, pagination, and versioning.

Implementation: routes, path matchers, tables, queries, and database configuration.

Deployment: the aws cli and cloud formation, auto-scaling groups, and cloud init.

This talk should be of interest to you if you are writing web services for internal or public consumption.

×

Streams: reactive? functional? Or: akka- & scalaz- streams side-by-side

Adam Warski

---

streams

reactive

functional

scalaz-streams

Stream data processing is becoming increasingly popular, providing elegant abstractions to solve a large number of everyday problems. Plus it's at the core of the "reactive" movement! The akka-stream and scalaz-stream libraries are the two popular libraries for single-node stream processing in the Scala ecosystem.

Both libraries share a common design goal, to provide compositionality, but they take different routes to satisfy that requirement. Akka-stream puts an emphasis on implementing the reactive streams standard and is actor-based, while scalaz-stream aims at isolating effects and providing a possibly pure FP library. This talk compares and contrasts these systems.

streams reactive functional scalaz-streams

---

About the speaker...

Apart from writing closed- and open-source software, Adam is interested in improving the way we use functional and object-oriented programming.

He is also writing a technical blog on a variety of interesting IT-related subjects.

You can follow Adam on Twitter here, or take a look at SoftwareMill.

×

Distributed deep learning

Jan Machacek

---

akka-cluster

akka-persistence

apache-spark

After a brief introduction to the nature of distributed systems, from distributed databases, through distributed state, to distributed computation, you will learn how to use Akka Cluster and Akka Persistence to implement such distributed systems. Once the data is safely stored in a journal, it is important to be able to perform deeper analysis. To do so, Jan will show you how to access the data in the journal in a distributed computation program running in Apache Spark. With the mechanics done, Jan will explain how to use (deep) neural networks that can be very easily trained to recognize patterns in the ingested data.

You will learn the advantages and traps of designing distributed domains, data and computation: systems that may become the next generation of financial systems, bringing elasticity, resilience and responsiveness. You will look in particular at systems that consume data from IoT / wearables, and that perform immediate and batch analyses.

akka-cluster akka-persistence apache-spark

---

About the speaker...

He shares his expertise and passion for software as the editor of the Open Source Journal, regularly contributes to open source projects and speaks at conferences in the UK and abroad. Jan is the author of many open source projects (various Typesafe Activators, Reactive Monitor, Akka Patterns, Akka Extras, Scalad, Specs2 Spring and others), books and articles.

Jan always wants to hear about interesting projects, events, hackathons, ...! He's keen to share his expertise at conferences, user groups, or simply over a drink or two. If you have something to suggest or share, get in touch!

Find him on Twitter.

×

Scala and Akka and Docker, oh my!

Mario Camou

---

iot

scala

akka

One of the challenges of application development is making sure that the all of the components of the environment match across development, testing and production. Most of you have had to deal with "but it works on my machine!" when something fails in the test or (even worse) production environment, only to find, after investigation, that the problem lies in some mismatch in a developer's environment. Having a distributed application only compounds the issue. Keeping everything in sync across tens, hundreds or thousands of servers is a challenging proposition.

In this talk Mario will introduce you to the current answer to this problem: containers and, more specifically, Docker. He will share with you the basic concepts behind containers, show you how to package your application in a Docker image, how to integrate this packaging into the build process, and talk about some of the things you have to be careful about during the process.

The first part of the talk is technology-agnostic, while the later parts deal specifically with integrating Docker into the Scala ecosystem and, specifically, Akka. While the talk can be applied to any Scala application, the examples shown will centre on Akka and Spray.

iot scala akka

---

About the speaker...

×

11:30

Invalid Time

Invalid Time

Coffee & Tea

11:45

Invalid Time

Invalid Time

Fast automatic type class derivation with shapeless

Alexandre Archambault

---

shapeless

adt

oop

You'll quickly see the kind of problems shapeless handles for you, why type level programming is the right tool for this job, and the limitations of this solution and what can still be improved in this area.

Have a look at argonaut-shapeless, scalacheck-shapeless and case-app on GitHub.

shapeless adt oop

---

About the speaker...

×

'Inappropriate' applications for Scala

Danielle Ashley

---

scala

functional

types

Developers considering attacking such problems with a functional language may wonder about performance, the look of the resulting code or simply why they would want to do it that way. The personal experiences and lessons learnt from these endeavours may shed some light.

Both projects are intentionally exaggerations of what one might want to use Scala for in practice, but even as learning projects, there are points of wider interest: how functional purity can be usefully sacrificed in the worst bottlenecks, how design of types is key to performance, and how expressing a problem functionally, despite the toil, is possible and satisfying and very often makes it clearer.

In getting both of these applications to work Danielle also hopes to give counterexamples to the perception held by some that Scala is necessarily slow, inefficient or uncool.

×

Finch: Your REST API as a Monad

Vladimir Kostyukov

---

rest-api

api

finagle

finch

monad

It's well known and widely adopted in Finagle that "Your Server as a Function" uses Request => Response. In a REST API setting this function may be viewed as Request =1=> (A =2=> B) =3=> Response, where transformation 1 is request decoding (deserialization), transformation 2 -is business logic and transformation, and transformation 3 is- response encoding (serialization).

The only interesting part here is transformation 2 (i.e., A => B). Since it's usually a challenge to deal with pure functions in real-world problems, we wrap this into a monad M[_], so that a transformation (i.e, map, flatMap) M[A] => M[B] encodes the business logic of a REST API server.

This and other ideas are implemented in Finch, a purely-functional library for building composable REST APIs on top of Finagle.

Read about Your Server as a Function here.

rest-api api finagle finch monad

---

About the speaker...

Today, Vladimir is an active member of the Scala community, where he is known as an author of several open source projects (Finch, Scalacaster, etc), blog posts and talks.

×

Distributed Data Science with Scala in a Browser

Xavier Tordoir

---

machine-learning

scala

spark-notebook

Based on simple examples put into a business context, and by using the Spark Notebook and Scala, you will learn how to apply different Machine Learning methods, using Apache Spark as the distributed processing engine.

×

12:30

Invalid Time

Invalid Time

Lunch

14:00

Invalid Time

Invalid Time

KEYNOTE




Keynote: Typelevel - the benefits of collaboration

Miles Sabin

---

scalax

scala

scala-cats

scalacheck

shapeless

This talk is about those collaborations: between Algebra, Spire and Cats; between Cats and shapeless; between shapeless and scodec, doobie, ScalaCheck and Argonaut; and how all of this is feeding into the rebooted Typelevel Scala project. It's also an open invitation to people right across the Scala spectrum to get involved in these projects and see what they can do for them in their own work.

scalax scala scala-cats scalacheck shapeless

---

About the speaker...

×

15:00

Invalid Time

Invalid Time

KEYNOTE




Morgan Stanley Raffle + Coffee & Tea

---

scalax

15:15

Invalid Time

Invalid Time

Workshop: Shapeless for Mortals

Sam Halliday

---

scala

shapeless

clean-code

json

The case study is spray-json-shapeless, a library that uses shapeless to derive serialisers for consumption by spray-json. You will learn about concepts such as Hipster.Aux, Generic, HList, Coproduct, Lazy and Strict, as well as some caveats (i.e. bugs in the Scala compiler) that can restrict what is possible. You will be involved in applying what you have learnt to S-Expression serialisation, which is exactly how the ENSIME SWANKY protocol works.

Time permitting, you will also take a tour of lesser-known features of shapeless that are being used by ENSIME to solve problems at compile time (that are often solved with verbose runtime reflection).

Code and setup instructions are available in this Github repo

scala shapeless clean-code json

---

About the speaker...

Follow Sam on Twitter here.

×

Workshop: End-to-end asynchronous back-pressure with Akka Streams

Konrad Malawski

---

end-to-end

streams

reactive

reactive-streams

This workshop focuses on the use of Akka Streams and Http, and shows how various Reactive Streams implementations can be fit together to form a well-behaving asynchronous system that will never overload any of its parts nor blow up with out-of-memory errors.

No preparation is necessary beforehand. Konrad will supply dependencies on-site at the workshop.

end-to-end streams reactive reactive-streams

---

About the speaker...

Konrad is a late-night passionate dev living by the motto "Life is Study!". His favourite discussion topics range from distributed systems to capybaras. He has founded and run multiple user groups (Java, Scala, Computer Science, ...), and works on program committees of awesome conferences such as GeeCON and JavaOne SF.

Other than that, he's a frequent speaker on distributed systems and concurrency topics at conferences all around the world. In those rare times he's not coding, he spreads the joy of computer science, through helping local user groups and whitepaper reading clubs.

You can follow Konrad on Twitter or check out his website here. You can also view some of his talks here and here, with his most recent talk being "The need for async".

×

2

Workshop: Mind blown: Crafting a Distributed Data Science Pipeline using Spark, Cassandra, Akka and the Spark Notebook

Xavier Tordoir and Andy Petrella

---

scala

spark

cassandra

akka

spark-notebook

Setup instructions can be found in this PDF

Please download this PDF now as the link will expire after the conference.

Note that this workshop requires a lengthy setup process.

scala spark cassandra akka spark-notebook

---

About the speakers...

In 2015, Xavier Tordoir and Andy founded Data Fellas working on their product offering for the Reactive Data Science toolkit.

Since 2015, Andy is a member of program committee of the O'Reilly Strata events, he's also a regular speaker/keynote at Skills Matter conferences including the Scala eXchange, as well as other technology events across the globe, sharing his skills, ideas and expertise on distributed technologies and machine learning.

Check out the spark-notebook here, or take a look at Data Fellas.

×

Workshop: Introduction to property based testing

Mark Harris

---

property-based-testing

This session will start with an introduction to the features of the ScalaCheck library, cover some advice on finding useful properties that a software system could test, and then provide the opportunity to try out several interactive examples of property tests.

It will end with a description of some common pitfalls Mark has found when starting to apply property based testing to real systems.

Code and setup instructions are available in this Github repo.

property-based-testing

---

About the speaker...

×

Workshop: Building Interpreters in Scala

Noel Welsh

---

scala

stitch

twitter

Day 2, 11 Dec starts 15:15 (Room 5)

Workshop: Building Interpreters in Scala
Noel Welsh

Interpreters aren't just for programming language enthusiasts---they are the pattern underlying many of the most fun and compelling applications of Scala, such as Twitter's Stitch and our own Doodle graphics library. An interpreter arises whenever you separate the description of a computation from the process that carries it out. This separation allows you to change the semantics of the program, for instance adding caching in Stitch or applying artistic effects in Doodle. In fact you can view almost all of the patterns in functional programming as variations of the theme of interpreters.

In this workshop you will learn the main ways of writing interpreters, covering as many methods as time allows. References to applications will be shared along the way, while working on a simple example to ground the theory.

Code and setup instructions are available in this Github repo

You should have a laptop, your development environment of choice, and a good level of understanding of Scala.

×

Workshop: Essential Slick: Hands On With Slick 3

Dave Gurnell

---

slick

typesafe

scala

cake-pattern

dsl

action-monad

sql

Slick 3 is the industry standard library for accessing relational databases in Scala. It provides many benefits, such as a fully asynchronous interface and strong compile-time type-checking, but comes with a cost in terms of complexity. Many experienced Scala developers have difficulty becoming productive with Slick, and beginners often find it to be a significant hurdle.

The session will be divided roughly into four sections:

Getting Started - You will run through the basics of setting up a project and creating a database layer using the Cake pattern. You will define some data tables, configure a database connection, and run some simple queries to test everything is working.

Queries - You will take a close look at Slick's query DSL, including the relationships between tables, columns, and queries. You'll discuss how to filter, project, and join queries to retrieve the desired results.

Actions - You will look at sequencing queries using Slick's Action monad. You will start with simple cases such as running queries one after the other, and proceed to more complex call graphs involving interleaved SQL and Scala code.

Tips and Tricks - You will finish with a set of tips for effective use of Slick, including structuring application code, modelling primary keys, mapping custom data types, and debugging errors at compile and run time.

Code and setup instructions are available in this Github repo.

slick typesafe scala cake-pattern dsl action-monad sql

---

About the speaker...

×

17:15

Invalid Time

Invalid Time

Scala eXchange 2015 Wrap Up
SkillsCasts
Photos
Other Years
---
Thank you to our sponsors and partners
Platinum
Gold
Silver
Bronze
Partners